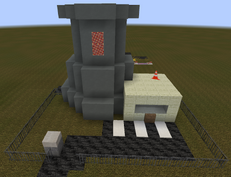 The Nuclear Power Plant is a Power Plant in Simburbia. It is the most basic and common type of power plant.
Appearance
Edit
The Nuclear Power Plant looks like any other nuclear power plant. It has a base building made of clay and a trapdoor for the "entrance". There are redstone ore blocks showing on the outside of the plant. It also has a parking lot with four spaces and if you go inside the power plant, a bunch of slime blocks lay in there with a sign on the wall that says, "This isn't how a nuclear power plant works".
Ad blocker interference detected!
Wikia is a free-to-use site that makes money from advertising. We have a modified experience for viewers using ad blockers

Wikia is not accessible if you've made further modifications. Remove the custom ad blocker rule(s) and the page will load as expected.