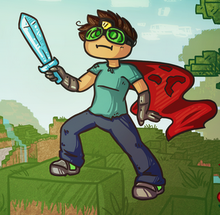 Jigarbov is the creator of Simburbia. During development, he was in charge of directing the maps, some builds, redstone creations, concepts and releasing the map on his website, www.jigarbov.net. He has a YouTube channel with 11,000+ subscribers. Not a lot, but that's OK.
Trivia
He lives in the UK, due to his accent.
He has released other maps, such as The Juggler's Balls and Infinity Dungeon, which did really well.
He has planted many easter eggs in Simburbia, including a statue of himself, Minecraft developer easter eggs, and more.
Gallery