The Build Token Return was a feature in a beta version of Simburbia. In the Main Menu, this button was next to the Audit button. This feature would allow you to return a Build Token you purchased for a money amount, anywhere from $0 to $15. It functioned similar to the City Dump. This feature, along with the manual audit, was obliterated and replaced with the Government Grant and One Time Tax Levy buttons after the Optimisation Update.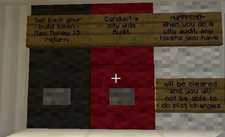 Ad blocker interference detected!
Wikia is a free-to-use site that makes money from advertising. We have a modified experience for viewers using ad blockers

Wikia is not accessible if you've made further modifications. Remove the custom ad blocker rule(s) and the page will load as expected.